Cross country victorious in spite of injured players
Roster depth and improvement of young runners will contribute to the team's success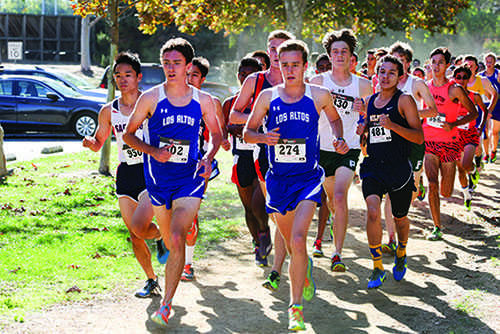 Despite being set back by injured players, both Palo Alto High School's cross-country teams are set to succeed at Central Coast Section (CCS) playoffs.
Although there are several injured runners, including boys captain senior Sam Desré and girls captain senior Emma Raney, the team is still optimistic about its chances at CCS.
In total, three members of the boys team are unable to race due to injuries including varsity runners Desré, junior Kai Oda and junior Naveen Pai, both of whom ran at the California Interscholastic Federation state finals last year.
The boys have done well at their two most recent meets even with an injured roster — the Baylands and Monterey Invitational meets.
At the Baylands meet on Oct. 20, the boys team averaged 30 seconds faster than Los Gatos High School.
"[The Baylands meet] was more of a training meet than a meet that we were trying to win and get best times in, but either way we still did really well and destroyed that meet," junior and varsity runner Ben Beaudry said.
Young talent was evident in freshman Henry Saul, who came in 13 out of 206 and sophomore varsity runner Sam Craig who came in ninth place, adding to the boys team's success at Baylands.
Coming off of these successes, the boys team is sure that it can perform well at CCS even with the injuries.
"Injuries are never a good thing to have, but we have depth in our team's roster so I think we will not struggle too much," Desré said. "I still think that we're going to be really good at CCS."
As for the girls, Raney's injury has hindered the success of the team.
"Because Emma's injured, it's unlikely that we'll go to States, but we can definitely compete at CCS and for a good showing there," senior and girls captain Portia Barrientos said.
While the loss of Raney has hurt the girls team, they are still performing well. At the Baylands meet, they placed third out of 13 teams.
"Although we lost senior Emma Raney because of her ankle injury, we were still able to turn in a great performance," Barrientos said.
At the Monterey invitational, the girls team placed fourth out of the 15 teams. The team believes that if younger team members step up and some of the injured players come back from the bench, they will have a legitamate chance of being a force to be reckoned with.
"Once CCS rolls around, [our performance] depends on improvement with the newer kids that we brought in," girls team coach Paul Jones said. "Hopefully at least one or two of the injured ones return. It's gonna be a bit iffy whether they can be effective by leagues, but there's a good chance that they will be back by CCS."
View Comments (1)
Your donation will support the student journalists of Palo Alto High School. Your contribution will allow us to purchase equipment and cover our annual website hosting costs.