Struggle to maintain enthusiasm affects girls water polo
The team hopes to improve on its last few games after suffering from many difficult losses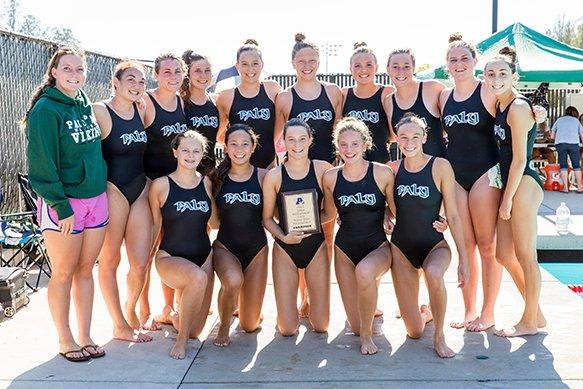 Following the end of its six-game winning streak, Palo Alto High School's girls water polo team has struggled to put points on the board. Previously averaging over eight points per game, the Lady Vikes scored less than five points in four of their past five games. All four matches were losses in which no player scored more than three points.
Sophomore and varsity player Hollie Chiao cites a lack of energy as the reason behind the team's recent slump.
"We're still working on maintaining a consistent hype during our games," Chiao said.
Although the girls team beat Los Altos High School in early September, the team lost 4-10 on Oct. 6.  Senior Gigi Rojahn led her team in scoring, with three points, while sophomore Sabrina Hall added one point to the Vikes' score. Junior Joanna Falla and sophomore Claire Billman had a combined 28 saves; however, it was not enough to continue the team's winning streak.  The team went on to lose to Los Gatos High School on Oct. 8. Chiao and Hall were the only Vikes to score, each with one goal.
"We lost that game because we were playing as seven individual players instead of playing as a team," Billman said.
Chiao added to her teammates remarks, mentioning the team's tactical shortcomings and their struggle to maintain intensity.
"Our defense was pretty weak, and our energy was too low," Chiao said.
She later credited the match against Los Gatos as a catalyst for the Lady Vikes' improvement.   
"We've definitely started playing more like a team, and we're still working on maintaining a consistent hype during our games," Chiao said.
Following a 12-6 win over Mountain View High School, the team lost 3-4 to Henry M. Gunn High School, once again making fewer goals than its 8.3 season average.  Hall contributed one point alongside Francis and Rojahn, two of the league's leading scorers.
The Lady Vikes later defeated Foothill High School 6-5 and Liberty High School 8-2, then suffered three straight losses to St. Mary's High School, Northgate High School and Vintage High School.  However, the team rose up to beat Saratoga High School 9-1, with Rojahn leading her team with three goals. Alina and Claire Drebin, Katie Francis and Hall each added one point to their team's score. 
The Lady Vikes' overall record is 10-7, standing 5-4 in league.  This places them in fourth place in the Central Coast Section pool of seven teams behind Los Altos, Gunn High School and Los Gatos, respectively. 
Billman, however, is not phased by her team's recent losses. 
"Over the past couple of weeks, we've been bonding, and getting back into our groove," Billman said. "We're excited for our game this Tuesday."
Leave a Comment
Your donation will support the student journalists of Palo Alto High School. Your contribution will allow us to purchase equipment and cover our annual website hosting costs.