Tutorial passes should be reinstated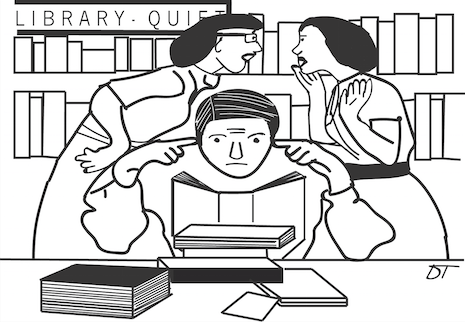 With the recent change in the tutorial policy, there is now an influx of people in the library during tutorial, as students are no longer required to have a pass to be there during the now mandatory instructional period.
This has caused the number of students in the library at any one time to rise from last year's upper limit of 80 students to this year's 300. Consequently, the previously quiet workplace in the library has become noisy and almost impossible to effectively work in.
Now that the pass system is no longer in use, there are people sitting in large groups, talking loudly to friends and disrupting the atmosphere. Unfortunately, it is hard for those who actually want to be productive during tutorial to get their work done.
Even Palo Alto High School librarian Rachel Kellerman agrees that the library has become a significantly less productive place for students to work this year.
"My personal view is that it needs to be quieter," Kellerman said. "I have a feeling [the new system] is not working for many students either."
Tutorial passes need to be reinstated in the library so that people who wish to use their time during tutorial  efficiently have the opportunity to do so. Paly's administration has done its best to encourage students to use their time during tutorial wisely, but they also need to work hard to create environments in which students have the ability to get homework done and be productive.
Administration has tried to encourage students to go to places such as the Math or Science Resource Center. The only problem is that these places do not hold nearly as many students as the library can and they do not hold all the resources students may need in order to get their work done.
It is hard for students to escape the chaos of the library since the Media Arts Center (MAC), the other large workplace on campus, has become no better during this time. For students who are trying to get work done in the MAC, it is hard to focus when there are distractions such as younger students using the MAC as their playground. The MAC provides resources for technology that are unparalleled on campus, as well as a seemingly good study location for students. Yet when it is not linked with a productive environment, the MAC may as well be useless.
Classrooms do not provide an easy solution either, since many classrooms do not have enough textbooks, forcing students to go to the library to use the additional textbooks there. Also, students who plan to do work for multiple subjects must bounce around between different classrooms, wasting parts of their valuable tutorial time. The library used to be a good solution to this problem, but now with the new policy, it is more difficult for students to get their work done.
A new type of policy needs to be instated in at least one of these areas so that students have the opportunity to use tutorial in a way that is meaningful for them to study or do homework. There should be designated places on campus for students who want a quiet work space and other specific places for students who would rather talk to friends during this time.
One reason why the administration got rid of tutorial passes was so that as many places on campus were open to students as possible, in an effort to keep students at school during this time. They feel that having an open library will encourage more students to stay during tutorial and use it effectively.
However, the harsh reality is that any student who was not using tutorial effectively before is most likely not using it effectively now either.
Students who are staying on campus for tutorial but do not plan to do work have other places besides the library to congregate such as the quad. When the library is open to everyone, it allows the noise and disruption to come in with the students who are not working.
Students also need to take responsibility and be mindful of their peers by not disrupting places that should be used for studying and doing homework. Students should understand and be able to take it upon themselves to go someplace where they will not interrupt others if they do not plan to work quietly themselves.
By simply reinstating tutorial passes, students who intend to study or do work can be in the library while those who wish to chat with friends could be elsewhere. When these passes return, students who want to use their time effectively in a quiet study environment will have the opportunity to do so.
Leave a Comment
Your donation will support the student journalists of Palo Alto High School. Your contribution will allow us to purchase equipment and cover our annual website hosting costs.