Peers should grade anonymous work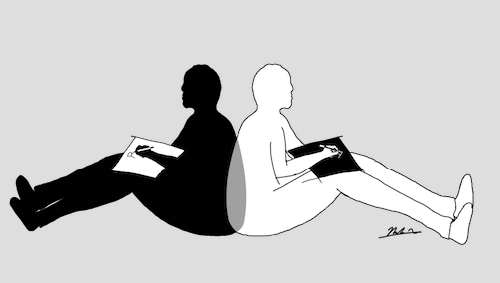 In order to prevent bias in peer grading, more classes at Palo Alto High School should look into implementing an anonymous peer grading system. After Palo Alto High School's Advanced Placement (AP) Psychology students take a unit test comprised of a multiple choice section and a short answer, the students peer grade the short answer portion of a classmate. Using a rubric given to them by the teacher, the class works in pairs to grade two different short answer sections. However, these students do not know whose paper they are grading, as there is a student ID number at the top of the page instead of a name. The teachers then pass back the paper for the student to see. This type of anonymous peer grading is helpful in eliminating bias in grading and should be extended to more classes that use peer grading.
"The basis of [anonymous peer grading] is based on psychological research," AP Psychology teacher Melinda Mattes, who implemented this system around a decade ago, said. "There is an unavoidable preconceived notion about the students from teachers, and this prevents bias when they read a student's name."
If teachers are susceptible to this inevitable bias, then students will have the same preconceived notions about someone if they know whose test they are peer grading. In AP Physics, students receive a rubric for grading a test and peer grade. However, this process is not anonymous.
"Anonymous peer grading would help with eliminating [inevitable] bias, which would be ideal," senior Aadit Narayanaswamy, an AP Physics student, said. "However, it is not absolutely necessary because the grading rubric is fairly clear and if students feel that their assignment was graded unfairly or with bias, they can consult the teacher and it will be cleared up."
Even if peer bias is not a huge factor, it still exists, and classes should look to incorporate anonymous peer grading to prevent further unfair biases.
Mattes believes that any class with writing can implement this system and argues that anonymous peer grading has numerous benefits in preventing bias as well as helping students.
"It is very easy to implement, and it builds trust and confidence between the students that allows for a better understanding of not only the assignment, but also how to get better," Mattes said. "With this anonymous grading, students can get honest feedback and get a bunch of different eyes on the paper, versus just mine."
However, in order to set up an anonymous peer grading system, there should be guidelines to help the system thrive and prevent grades from being corrupt.
"You have to set up the right parameters within the system of the class," Mattes said. "If the class was just peer grading anonymously and the teachers were never looking at them, I can't say that the overall effectiveness will be there."
Yet another helpful aspect of peer grading is that students can see the rubric by grading their peers' tests, which helps students understand how AP tests are scored and better prepare them.
"Since we get to see how the rubric works for the AP and see what it is like as an AP reader, we can improve our answers in the future," senior Albert Han, an AP Psychology student, said.
Ultimately, with all of its practical benefits and simple implementation, anonymous peer grading should be installed in as many Paly classes as possible.
Leave a Comment
Your donation will support the student journalists of Palo Alto High School. Your contribution will allow us to purchase equipment and cover our annual website hosting costs.