1 in 2000: Kyle Powell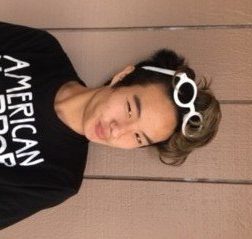 The Campanile (TC): So how is your day going?
Kyle Powell (KP): It's okay. I mean I'm going to meet my tutor later, nothing really new. So far okay.
TC: So you were in the sophomore spirit dance…
KP: True.
TC: You had a great solo…
KP: So true.
TC: How was that.
KP: It was really f—ing amazing, like really amazing.
TC: Would you say that Beyoncé is your queen?
KP: True, she is sooo my queen, so my queen. She is the fabulous goddess that no one deserves, but she is still on this earth.
TC: Since the queen will be able to lead our country soon, if Beyoncé ran for President in 2020, do you think she would beat Kanye?
KP: F— yeah, she would totally beat him. What am I talking about, Kanye ain't gonna win.
TC: What is your spirit animal?
KP: My spirit animal? I don't think I have one, I'm sad.
TC: Why don't you have a spirit animal?
KP: I don't know. I have never really thought into that before. What would be something fun and creative?
TC: I don't know, I feel like my spirit animal would be a koala.
KP: Maybe a unicorn. I'm full of rainbows and joy.
TC: What is the best part about sophomore year?
KP: The best part of sophomore year is … I really do not know what to say. Sophomore year kinda sucks, but I am trying to see the highlights. You get to do more exploring, you get to find yourself and see where you belong.
TC: What is the worst part about sophomore year?
KP: The homework, it sucks. So much.
TC: Do you think it will get better junior year?
KP: No. It ain't gonna get better, it only gonna get worse.
TC: I could tell by your Instagram that you draw a lot, do you want to talk about that?
KP: Drawing is a hobby of mine. Since I was doing a challenge on Instagram called Inktober where you draw a picture of everyday of the month, but because I have been so busy with homework and tests lately, I haven't been able to. It is a good way to relieve stress.
TC: How would you describe your aesthetic in one word?
KP: I have three words: b–chy, sassy and queen.
TC: Queen?
KP: Queen.
TC: In relation to the queen herself, Beyonce, where are you on your queen level?
KP: In relation to Beyoncé, not even close. Normal standards, a little bit more or halfway. Not full, but maybe a good 80 [percent there].
TC: Also, you have fantastic hair. Do you want to describe your hair to our readers?
KP: It's ratchet as hell, it looks really ugly, but in style it's okay.
TC: Would you say you are hair goals?
KP: I just want it to be fabulous. I just want it to have luscious color and be fabulous, but it can never be that.
TC: Any last words for Paly?
KP: Stay fierce, stay fabulous and stay strong no matter what.
Leave a Comment
Your donation will support the student journalists of Palo Alto High School. Your contribution will allow us to purchase equipment and cover our annual website hosting costs.