The truth about college apps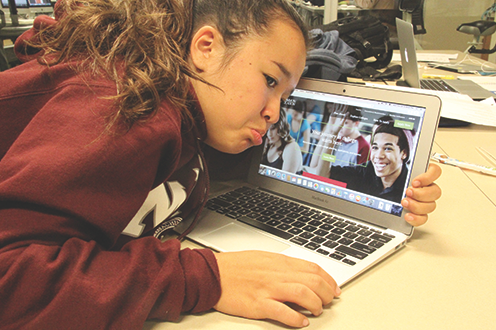 Nov. 1 —  for any high school senior, the thought of this date is often followed by a surge of anxiety, as it marks the due date for many early college applications. I have been in the college application process since Aug. 1, when my favorite website, www.commonapp.org, opened for the Class of 2016 to start its college journey. I thought applying for college would be this momentous time, filled with easy 250 word supplements telling the schools why I love them, and all would be well. It is most definitely not like that. To help 75 percent of the Paly population understand what college apps are really like and to get a "BUMPPP" from the other 25 percent, I wrote a column (rant).
Before we get into actual college apps, I need to talk about the young gentleman on the front of the common app website. This is probably  currently the most disliked face by every high school senior. While I am sure he is a very nice person who has a future in modeling for other college application websites, no one should be so enthusiastic on a website built to ruin dreams about being #collegebound.
Writing your college essay is by far the hardest thing you will ever do, next to getting an APUSH extra credit question right. You think you should write about the most meaningful thing in your 17 years or so. Update: you will not, because "everyone else is already writing about it."
Instead, you will write about a random fact about your family or something you did that was semi-original, and then you will make it seem like it was a life-changing moment. To underclassman: instead of having a really meaningful summer, just chill with your dog for a while and your college essay will come to you — from how your dog is a metaphor for your life.
Supplements will be the death of you. These 100-500 word prompts may seem like they are sweet and easy,  but they are not. Lots of seniors are applying to 15 or 20 schools and while some schools have no supplements, some have 15 (thanks Stanford), you will probably end up writing more than 20. There will be overlap in your supplements, minus specific school facts. Make sure you adjust things so you do not accidently talk about the Core Curriculum in Brown University's supplement (for those of you that do not know,  Brown does not have a Core Curriculum, that is Columbia University's thing). It all takes time.
There is also the social side of applying. The worst thing you can say to a senior filled with anxiety about getting into college is saying, "Oh my god you will TOTALLY get into [insert really hard to get into school here]." Unless you are the admissions officer for the San Francisco Bay Area of that fine institution, you are just getting that person's hopes up.
To the Class of 2016: good luck in your college application endeavors, and just think about how sweet second semester will be. Bye Paly Pals!
View Comments (1)
Your donation will support the student journalists of Palo Alto High School. Your contribution will allow us to purchase equipment and cover our annual website hosting costs.