Tutoring program look to close achievement gap
Project Rally focuses on providing in-depth, volunteer-based Language Arts tutoring for young PAUSD students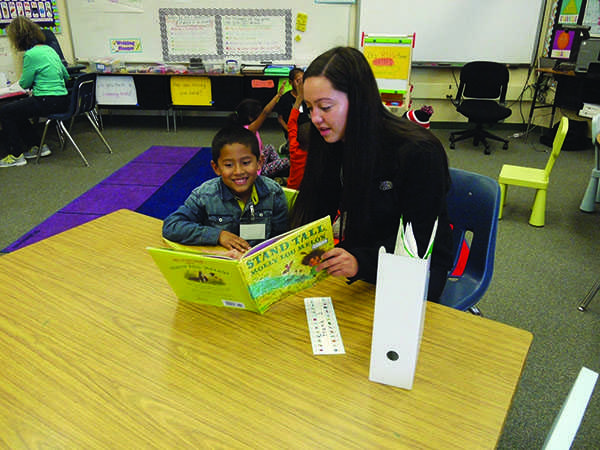 Back in 2005, only 35 percent of low income students met or exceeded standards on California standardized testing. In 2015, 10 years later, 63 percent of low income students still cannot meet or exceed standards from the Smarter Balanced English Language Arts test, while only 13 percent of non-economically challenged students struggle to meet standards, according to Palo Alto Online. After 10 years, progress had not been made in the closing of the achievement gap in Palo Alto.
On Oct.12, Palo Alto Unified School District (PAUSD) and East Palo Alto Tennis and Tutoring (EPATT) came together to provide what may be the first tangible solution to the problem, a new program called Project Rally.
Project Rally, an after-school program offering free tennis lessons and tutoring, is located at Fairmeadow Elementary School and runs after school. Students are provided with three 45-minute tennis lessons and two 45-minute one-on-one tutoring sessions. Project Rally is open to kindergarten and first-grade students who are part of the Voluntary Transfer Program (VTP), a program that sends students from East Palo Alto to PAUSD schools.  Shirley May, one of the program coordinators, emphasizes the importance of supporting these kids at a young age.
"We really believe those fundamental skills of building literacy and really nailing down the phonemic awareness skills [are important] for kids in kindergarten … [they] are at an age where we really still have a significant impact on closing that gap for them," May said.
As of now, all of the students are from East Palo Alto and attend either Fairmeadow or Hoover Elementary School, though the program has just launched and has hopes of expanding to other elementary schools in the near future. Project Rally hopes not only to open the program to other schools, but also to increase enrollment from 23 to about 30 students by the end of the school year.
Project Rally follows EPATT's model of combining tennis and tutoring in order to take full action in getting these underprivileged kids the support that they need. May is fully aware of the struggle that these students face.
"Even though these kids have access to the same resources, the same classrooms, the same teachers, the same books as their Palo Altan counterparts, when it comes to academic achievement and things like test scores and college acceptance rates, these kids are showing much lower rates of success," May said.
May feels that a reason VTP students struggle in PAUSD is due to their socioeconomic background.
"They may be reading the same books or listening to the same teacher, but once they leave Fairmeadow or Hoover, we don't really know what they have access to at home," May said.
Project Rally aims to have its students, beginning at age five, become active learners in their education process.
"We do have a focus on reading, and not just recognizing letters and the sounds that they make or learning new words, but we really want the students to be more proactive in how they read and how they question their education," May said.
Tutors work with students on many different aspects of Language Arts. They teach 15 minutes of phonics, 15 minutes of writing and 15 minutes of reading each session. In the last 15 minutes, the kids all leave and tutors do a short debrief with each other on how it went.
Tutors are all volunteers who are working with these kids because they care about the cause. They range from passionate high school students and retirees to former teachers all working together to provide support. Quinn Knoblock, Jordan Quigley and Katie Cox are juniors at Palo Alto High School who take part in this program because they enjoy working with kids and want to help make a difference in the community.
"I really like it because I have the same boy every time and I love him and it's really fun to teach him," Quigley said. "I love teaching him how to spell all of his favorite colors. He's gotten a lot better at reading, and it's cool to see all the progress that he's made."
While Project Rally has goal of increased academic success,  social and behavioral skills are also emphasized.
"We want to help them realize that in school and in society we need to be able to act a certain way and learn from our mistakes and just be not only focused on what we want, but care about others as well," May said.
This can be a challenge for some of the students, as many of them came into the program with behavioral challenges.
"My kid has a hard time focusing so I always have to get him to refocus," Cox said.
Project Rally will assess students at the end of the program and compare the results to the teacher's assessment of them at the beginning of students' time at Project Rally.
"We're working with the teachers to see if the tutoring and the tennis and the program is actually working for them," May said.
Quigley feels like the program is off to a good start, but needs more time to settle in before they can make a true evaluation.
"I think because it's the first year of it they're still working out the kinks and everything, and it's not flushed out yet," Quigley said. "It's not completely organized, and they don't know exactly what they're doing but I think that it's definitely getting there."
Knoblock is also optimistic about the outcome of the program as well given what she has seen so far.
"[Project Rally] is hitting the root of the problem, which is at a young age helping kids with early literacy skills, and so I think the achievement gap is improving," Knoblock said.
While this program may be just beginning, it is a strong effort towards eventually being able to close the achievement gap in Palo Alto.
Leave a Comment
Your donation will support the student journalists of Palo Alto High School. Your contribution will allow us to purchase equipment and cover our annual website hosting costs.