How to become Instafamous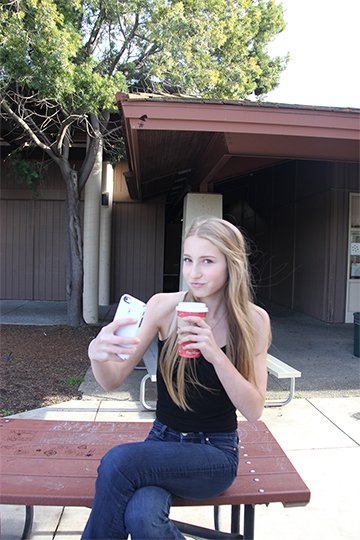 Have you ever scrolled through Beyonce's Instagram page and thought, I wish I had that many followers? Let's be honest, we've all done that before — everybody wants to become Instafamous. Now, with these easy steps, you can become Instafamous yourself and never have to feel self-conscious about your number of followers ever again.
When you see attractive people walking down the street, be sure to sprint towards them. Especially if you spot a celebrity! James Franco is constantly roaming the streets of downtown Palo Alto so it's easy to catch him, plus he LOVES taking photos. You can snag a quick selfie to post on your Instagram feed. Catching celebrities and other attractive people off guard is much better because then they will have more of a confused look on their face, rather than an angry one. #Candid shots will add a lot to the legitimacy of your feed.
Artsy captions keep your followers captivated in your posts. To make them more sentimental use song lyrics such as Miley Cyrus' song "Can't be Tamed" or Kanye West's song "Gold Digger." For example, if you take a super artsy photo of your succulent garden, obviously use a Chris Brown song ("Strip" pretty much applies to everything) to express how much you love it. Add the top-trending emojis at the moment, such as the new moon face, the roasted sweet potato or the dragon face, to convey your emotions about your photos. This creates a fun game for your followers to guess the hidden meaning behind your existential captions.
Food pictures are a must for Instagram feeds. Starbucks, Philz or Coupa are the best places to take pictures of frappuccinos and lattes. It doesn't matter if you don't like these drinks, posting them is essential to becoming Instafamous. If you don't like them take the photo and throw them out once you have the perfect angle for Instagram, it is well worth the money. You did it for the aesthetic.
The most important tip is to have photo shoots where ever you go. Be sure to bring a camera around at all times; better yet, hire a photographer to get some candid photos as well. This makes it seem like you have paparazzi and will attract more people to you. Location is key to the shoot. I've found that the places with best lighting are bathrooms, specifically ones in McDonald's or Taco Bell. Don't let anyone tell you that mirror selfies are a dated trend —  Miley Cyrus says otherwise. If you find that your local McDonald's or Taco Bell is closed, no need to fear, everyone has access to a Starbucks. Although their restrooms are not up to par with McDonald's, they are the next best thing (plus you can pose with your Frappuccino). Just remember, any opportunity to have a photoshoot is always a great opportunity!
I can assure you that if you complete these five steps, you will quickly become Instafamous and come even closer to becoming Queen B.
Leave a Comment
Your donation will support the student journalists of Palo Alto High School. Your contribution will allow us to purchase equipment and cover our annual website hosting costs.