Students juggle academics, athletics
Athletes forced to drop or commit to playing sports before college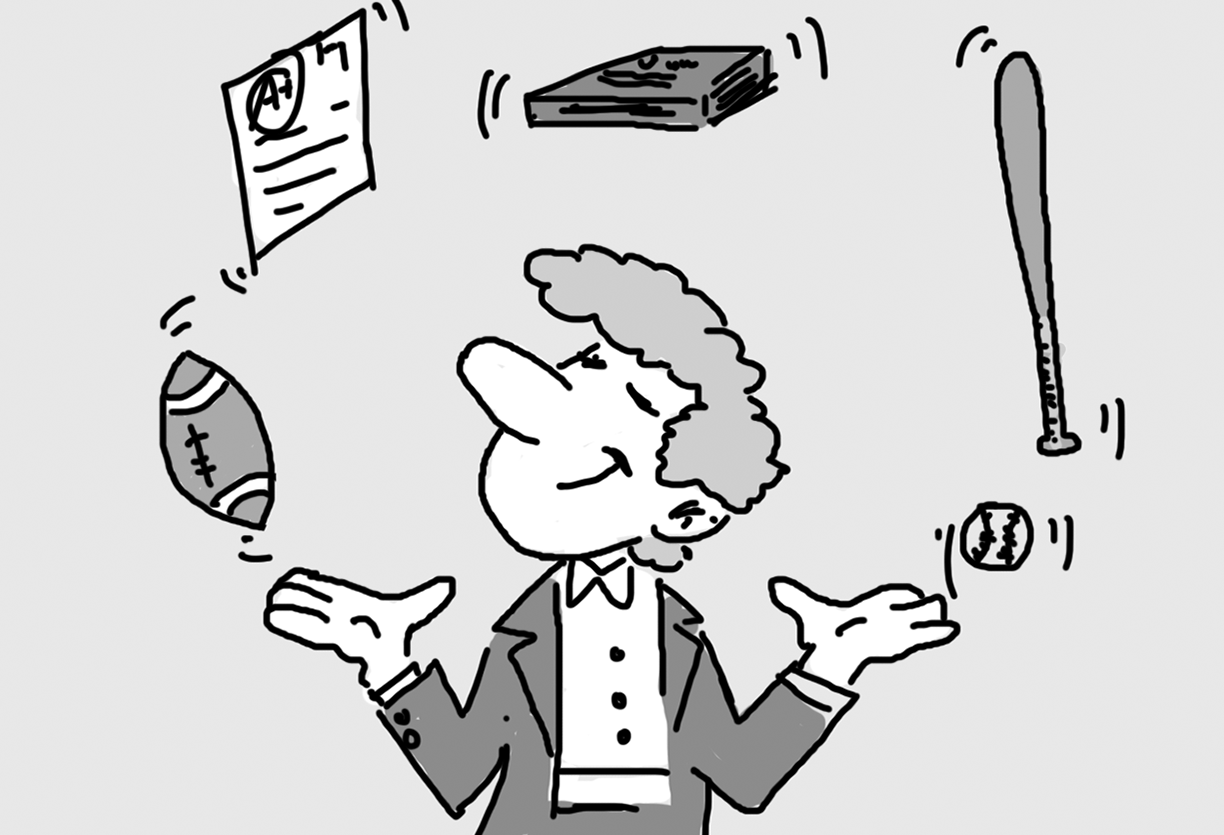 Many high schools are known to have exceptional academic or athletic reputations, but rarely have both — Palo Alto High School is unique in that respect. Athletic competition can relieve stress, but sometimes athletic programs become too ambitious, or take up too much time.
Because Paly is such an academically focused school, if an individual struggles in class, being surrounded by high-achieving students can negatively affect that individual's confidence.
"I believe that in Palo Alto there is a constant pressure to be the best at something," senior Andrew Cho said. "So for the students who are not at the top of the academic chain, [they] can gravitate towards a sport and be better than they are academically."
If a student is juggling two sports and striving to play at a high level, he or she must choose in order to "be the best" in the eyes of college recruiters. Cho was forced to decide between water polo and swimming.
"I had to decide between the two sports and commit to becoming the best I can to one of them," Cho said. "I chose to swim instead of water polo because I was already so committed into the sport, and put in countless hours into swimming that giving up on that was not an option for me," Cho said.
As a senior, the combination of the application process with the recruitment process is something only a select few students experience, and  it adds an additional level of stress.
"It's a hard process because, not only do you have to be on top of school and work, but you have to be efficient and productive during practice in order to improve and impress coaches," Cho said.
The goal of many high-performing high school athletes is the elusive college scholarship.
Although many students are skilled in both athletics and academics, only a few can obtain these athletic scholarships.
It is often thought that those who get athletic scholarships do not have to try as hard in school because they are such skilled athletes they will be accepted anyway.
"I feel like there also is a persona that student athletes who are making it into high achieving schools with an average GPA or test score is seen as 'cheating' the system," Cho said.
"As [student athletes], it is almost human nature to be exceptional in sports and not academically because, instead of taking the time after school to spend time studying or working on homework, we spend it in the pool or on the field."
There are players on most high level teams that are known to worship their sports. However, showing the same level of rigorous commitment can be difficult for others. Junior Jasmine Abeyta is a member of the highly competitive NorCal Premier League (NPL) soccer team.
"Last year, my team started to push for becoming way more competitive than we already were and it started happening really fast, which changed my view on soccer and how much I enjoyed it," Abeyta said.
As the intensity increased, Abeyta's love for the game decreased. She was not sure whether to continue playing.
"When we started pushing to become the best of the best — even though we clearly weren't fit for it — I started to feel like I wasn't good enough of a player," Abeyta said. "This was the level of commitment and intensity I would be put through for college soccer — even DIII — and I didn't want to participate in that."
Looking ahead, Abeyta hopes to focus on things other than soccer to help her get into a university.
"I want to do more things outside of school that will help me get into college, since I know I don't want to play in college, so soccer obviously can't help me," Abeyta said.
Competitiveness in a sport can be an outlet to lower stress, but it is not always beneficial because it can make people lose interest, as was the case for Abeyta.
However, for others, although it comes with a lot of added stresses and difficulties throughout the year, it can potentially provide them with a scholarship, as is the case for Cho.
Leave a Comment
Your donation will support the student journalists of Palo Alto High School. Your contribution will allow us to purchase equipment and cover our annual website hosting costs.