Bill Belichick: 6-time Super Bowl champion, 3-time Coach of the Year, postseason win percentage of .710. After over 30 years of coaching in the National Football League (NFL), Belichick's name has become synonymous with the historically successful New England Patriots. Selected to  be in the NFL's All-Decade team, Belichick is considered by most fans as the best coach in history. However, if Patriots had the same "win-now" attitude with him in 2000 as current teams have with their coaches, he would be relatively unknown and NFL history would have been dramatically altered. Sports teams need to give their coaches more time to acclimate before making a decision on their futures. Belichick took over for a team that had managed a mediocre season in 1999 on the backs of two NFL stars.
In his first season, Belichick took the same roster that managed to break-even while staying competitive and relegated it into a 5-11 laughingstock.
A do-or-die mindset that many NFL owners currently empl
oy would have caused Belichick to be fired, but that was not the case. Robert Kraft, the Patriots owner, allowed Belichick to continue on with his coaching tenure in Foxboro.
With just one year to acclimate, Belichick promptly propelled the team to a Super Bowl victory in 2001. Today, Belichick has four total Super Bowl victories and multiple accolades.
In contrast, the Tampa Bay Buccaneers gave former coach Lovie Smith very little time to settle in before firing him. Smith's predecessor in Tampa, Greg Schiano, left him in 2014 with a young but inexperienced roster. And as a result, Smith managed to amass two wins compared to his 14 losses.
The next season, with star rookie quarterback Jameis Winston and developing receiver Mike Evans at the helm, Smith improved the team's record to 6-10. Ignoring the obvious improvements and the fact that the team had developing talent, the Buccaneers fired Smith. Although only time can tell if this was a good choice, Smith's upward trend and ability to develop the Buccaneers' young players signaled the possibility for a successful future.
Half a decade earlier, the Oakland Raiders made the same mistake when they fired promising coach Hue Jackson after just one season. Taking over for head coach Tom Cable in 2011, Jackson inherited a squad with only one quality non-special teams player.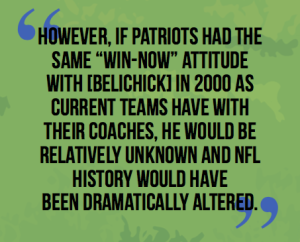 While people may argue that the four Pro-Bowlers in Jackson's squad could have led the team to success, three of them played exclusively on special teams, which take the field less than five minutes a game. Jackson, who took a roster without the likes of former Raiders stars Nnamdi Asomugha and Zach Miller, managed to achieve an 8-8 season.
Unfairly, the Raiders fired Jackson. Five years and three head coaches later, the Raiders have a roster full of talent and potential, yet no records similar to what Jackson achieved.
Meanwhile, in the National Basketball Association (NBA), the Los Angeles Lakers prematurely fired head coach Mike Brown, which began a downward spiral of mediocrity that has still not ended even after several years of pathetic play and decreasing attendance rates.
Taking the already established Lakers roster, Brown led the team to its successful 2011 campaign. Even though the Lakers managed to win many games, the lockout-shortened season gave Brown limited time to impart his new offensive philosophy on the players.
When his first complete season with the Lakers began in 2012, the addition of superstars Dwight Howard and Steve Nash raised expectations significantly for the aging team. After 10 quick losses, Brown was fired.
Later in the season, the issue arose that Brown's coaching ability wasn't the problem — the cumulative star talent was unable to cohesively succeed even with a new coach. Furthermore, the Lakers have not had a winning season since Brown left with the ninth-shortest coaching tenure in the seventy-year history of the NBA.
In soccer, the immediate firing of coaches is justified because of the risks associated with having a single terrible season. In the case of David Moyes, ex-manager of Manchester United, the front office had adequate reason to fire him. Moyes, who
inherited a squad with combined talent worth over 100 million euros from legendary manager Sir Alex Ferguson, dragged United down to a seventh-place finish. In a sport where performance directly correlates with income, a decline in winning could lead to a lower budget, which in turn would lead to a lower talent level in the club and then relegation.
Relegation, the ultimate demotion in soccer, drops a team into a lower league. Just as if a NBA team dropped into the Development League, soccer teams lose a large amount of money and publicity when relegated to lower leagues. Thus, in order to avoid relegation, soccer teams are justified in firing coaches immediately. However, this logic should not apply to American sports teams that are not subjected to the threat of relegation and drastic financial loss.
Just this month, the Cleveland Cavaliers of the NBA had justification for firing their head coach, David Blatt.  While critics of the move would argue that Blatt, who was around for just one year, took the Cavaliers to the NBA finals and currently led them to the third-best team in the league, the Cavaliers' concerns about Blatt outweighed any benefits that keeping the coach had.
One of the "Big Three" superstars that the Cavaliers signed in the summer of 2014, Kevin Love, with his $110 million contract, appeared to be disgruntled and stymied by the offensive system implemented by Blatt. To compound on the chemistry problems with Love, the most important player on the Cavs, LeBron James, had been a strong advocate for a new head coach, namely ex-Blatt assistant  and former NBA player Tyronn Lue. In contrast to Blatt, Lue had the support of most of the players for a head coaching position, which would greatly improve team chemistry.
Although the winning record presented Blatt as a quality coach, the problems that lay underneath the surface had to be addressed before they caused lasting damages to the Cavaliers' infrastructure.
Although the occasional example persists of  teams justifiably firing their coaches after one season, the overwhelming majority of cases in American sports provides enough evidence against the knee-jerk reactions by owners to fire coaches prematurely.