Thomas Jefferson once referred to voting as "the rational and peaceable instrument of reform." Yet this important tool and responsibility is often overlooked. As many Palo Alto High School seniors will soon become eligible to vote in their first election, their birthright may seem unimportant. However, voting is not just a right; it is a responsibility. Casting a ballot gives credence to our democracy, that the government is representing the will of the majority. Voting is one of the easiest and best ways to enact concrete change and take responsibility for being a part of society. In order to vote effectively, voters must become aware of current events. Easy ways for new voters to become involved include watching the primetime debates, checking out each candidate's website or signing up for campaign email lists.
The online registration process is fairly simple. The information needed is a birth date, the last four digits of one's social security number and California driver's license or identification card number. For those who have not gotten a license yet, it is still possible to do most of the registration online but with an extra step of mailing in a printed, signed copy of the forms. Additionally, you can register to vote before you are 18 years old, as long as you will be 18 years old by the election date.
Hillary Clinton
From a cameo on Saturday Night Live to learning popular dance moves on The Ellen Show, it would be hard for those paying attention to either popular culture or the presidential race. The former Secretary of State of the Barack Obama administration previously ran in the 2008 primaries and lost to Obama. Clinton has also served as First Lady to husband and former President Bill Clinton and then as a senator from New York. She has a liberal approach to issues such as immigration and gun control. Clinton's more conservative stance on the death penalty suggests that though there are issues with the punishment, it should be not be abolished. Clinton's presidential campaign has not been without mishaps; most notably an email scandal in which Clinton used a personal email address rather than an official State Department email while serving as Secretary of State. Some fear Clinton has not reached out enough to the wide range of voter demographics she needs to win the election, and others worry that she will run into the same issues that she encountered in the 2008 primaries.
Bernie Sanders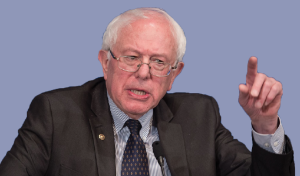 Are you feeling the Bern? Vermont Senator Bernie Sanders has certainly been bringing the heat to his campaign, gathering support for his Democratic Socialist agenda from the younger voting population after being considered the underdog of Democratic candidates. Sanders, though independent in the Senate, is running as arguably the most left-leaning candidate in the Democratic party. He is currently the longest serving independent member of Congress, combining his two terms in the Senate with his years of experience in the House of Representatives. From his opposition to the Keystone Pipeline and other acts to address climate change to his support for a single-payer health care system, Sanders is focused on bringing a political revolution. He also plans to attempt to eliminate tuition to public colleges. Controversies with Sanders' policies on gun control have been brought up, specifically for his moderate views and his vote in favor of a law protecting gun manufacturers from lawsuits. Despite his growing popularity among younger voters, skeptics feel Sanders is too extreme and that an implementation of his ideas would be impractical and unfeasible.
Martin O'Malley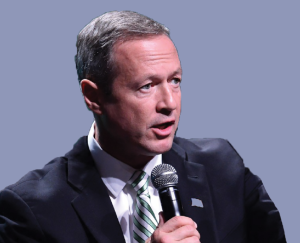 Martin O'Malley may not be in the spotlight of the Democratic nomination race, but O'Malley brings a unique perspective. Serving two terms as mayor of Baltimore and another two terms as governor of Maryland, O'Malley is considered experienced, despite not being as well-known. At 52 years old, O'Malley is the youngest of the three Democratic candidates and is thought of as a fresh face to a new Democratic generation. O'Malley has demonstrated his opposition to the death penalty through his experience as Maryland governor. Additionally, O'Malley holds liberal views on the majority of campaign issues, from economic stances to social issues. However, many people do not believe that O'Malley could win the bid, let alone the election as a whole. He has had lackluster performances at debates and O'Malley has been a Clinton supporter in the past, never speaking against her during his campaigning process.
Donald Trump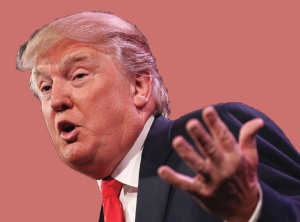 Most of America would not have even thought about the presidential election until now if it not for the media craze surrounding Donald Trump. His brash, no-nonsense attitude has taken the media by storm, as all eyes turn to Trump's next move. The billionaire, real estate mogul and reality TV personality, despite lacking any experience in elected office, has led the Republican polls by a wide margin since July, according to a Huffington Post poll. Trump's business experience and brutal honesty provide a contrast to establishment candidates, such as Jeb Bush, who is currently battling dwindling poll numbers. Trump's platform is epitomized by his appealing slogan, "Make America Great Again!" and focuses on policies such as tax reform and building a wall along the Mexican border to combat illegal immigration. Critics, however, worry that his unapologetic rhetoric and frequent political incorrectness could present a problem in diplomacy. Others are skeptical of his conservatism, as he previously supported Hillary Clinton in her 2008 campaign for president. Trump recently grabbed the media's attention after receiving a heavily publicized endorsement from 2008 Republican vice-presidential candidate and former Alaska governor Sarah Palin. Some believe that Palin's support will secure more right-leaning voters, but comics such as those on Saturday Night Live have enjoyed mocking Palin's passionate speech.
Ted Cruz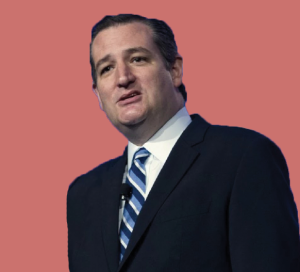 Following disappointing poll numbers early on in the race, Senator Ted Cruz of Texas has now nearly risen to the top of the party and many Republicans believe he is the man who can take down Trump. Cruz most recently made headlines after Trump questioned his eligibility for president as a natural born citizen, since Cruz was born in Canada to an American citizen. His experience in the Senate includes authoring numerous bills, such as a repeal of the Affordable Care Act and support for the Keystone Pipeline. Cruz is a far right-leaning conservative, popular among evangelical voters for his efforts to protect traditional marriage and his policy proposal that only Christian refugees be allowed into the United States. He has been heavily criticized for his religious leanings, and his strong opposition and doubts towards evidence of climate change.
Marco Rubio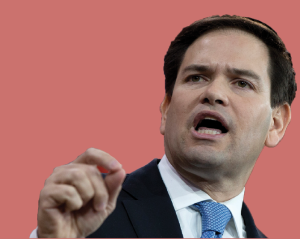 Though one of the youngest candidates in the election at 44 years old, Marco Rubio brings remarkable experience along with a youthful outlook, as he currently serves as a Florida Senator. Rubio's views are fairly far to the right, as he is a proponent of the death penalty and strongly opposes taking in Syrian refugees and implementing gun laws. Rubio shies away from the strong stances many of his conservative opponents' take on immigration, preferring to take a moderate approach involving multiple measures to curb the issue. Rubio draws attention to his liberal immigration views that contrast most Republican candidates through bringing up his family's immigration story from Cuba quite frequently. He has gone back on a previous bipartisan immigration bill he worked on. Rubio has not established an obvious base of demographics, and many believe this may hurt him in the months to come. Others believe that he will be the best candidate to attract Hispanic voters. Critics feel as though Rubio will have to rely on a blunder by some of his direct competition to have a real shot at the people, and that he does not have a strong demographic to rely on.
Michael Bloomberg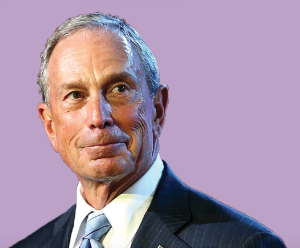 Recent speculation infers that there may be a new piece to the election puzzle. Billionaire and former New York City mayor, Michael Bloomberg, may be looking to enter the ring as an independent candidate, planning to finalize his decision in March. Bloomberg is known outside of politics as the founder of an organization of financial media platforms and is currently the seventh richest person in the nation. He has changed parties several times, beginning as a Democrat prior to his terms as mayor, then switching to a Republican affiliation for six years, until finally settling as an Independent. Thus, he offers a moderate stance and may serve as an alternative between polarizing candidates on either side, such as Donald Trump and Bernie Sanders. Bloomberg is socially liberal, supporting gay marriage and abortion rights, while remaining fiscally conservative. Additionally, his combination of political and business experience is unrivaled, yet his inability to appeal to a large demographic of voters on either side may be his downfall. Some analysts see his Wall Street connections as a hurdle. His biggest potential hurdle may be history, as no independent candidate has ever won the presidency. Bloomberg's presence in the campaign race could potentially drastically affect the outcome of the election, as he may split Democratic and Republican votes.