Picture a strong, tenacious woman. Beyoncé, Hillary Clinton, Oprah Winfrey or Monica Beverly Hillz might come to mind. Three out of the four names will be familiar to most, but the name Monica Beverly Hillz will only be recognized by a few. Hillz is a drag queen — a term used to refer to as a man entertaining an audience dressed up as a sensationalized woman. However, those that do drag will define it as something more significant. Each drag queen is different ,with his or her own personal reasons for doing drag and each sends a unique message.
Drag queens are most commonly known for their big hair, flashy clothing, layers of makeup, high heels and sassy remarks. Drag television shows cover a spectrum of emotion and entertainment one that is quickly understood in the reality show, "RuPaul's Drag Race," where drag queens are assigned to different challenges include singing, dancing, acting and more.
"A drag queen is the ultimate showgirl; a drag queen is there to uplift you, make you happy, and take your mind off of whatever stress or challenges that are going on in your life for those minutes during the show," season five contestant on "RuPaul's Drag Race," Hillz said.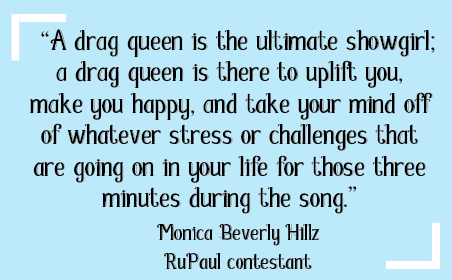 Tammie Brown, who was a contestant on the pilot seasons of both "RuPaul's Drag Race" and "RuPaul's All Star Drag Race," is a full time drag queen, an uncommon occurrence in the drag community. During the day, Brown practices Buddhism and runs her daily errands. By the afternoon, however, Brown begins preparing for her job as a drag queen, with bags of makeup that cover the table with powders of bright colors, cans of hairspray and copious amounts of glamorous outfits on hangers.
Every night, Brown performs in night clubs performing songs, lip syncs and dances.  Brown is a full-time entertainer, but at the heart of her performance is a message to her audience to stay true to oneself and to not be afraid to express one's ideals. Brown's message is inspired from her high school experience, a time when his peers did not accept her as a drag queen.
"I love that drag is able to inspire others and that other people have been uplifted and inspired to express themselves and I have been able to share that with others in a positive way," Brown said.
On the other side of the spectrum lies Sophilya Leggz; a Bay Area drag queen who began drag as a way to use makeup and feminine clothing to feel beautiful. After dozens of counseling sessions, and ultimate questions of whether he wanted to identify as a woman,  Leggz concluded that he was not transgender. Unlike many of the traditional drag queens, Leggz performs an alternative style of drag, he prefers gothic, punk, rock and metal styles, emphasized by his black and silver makeup, head bangs and dark outfits.
"I identify myself as a bisexual, probably more straight than bisexual," Leggz said. "I liked to dress in feminine clothing and I enjoy making music so when I found drag it just went hand in hand."
Drag in its most understood form is defined as a man dressed up as a woman. This is misconstrued by many to mean that drag queens are transgender or that they want to be women. Although there are transgender women who are also drag queens, this is not true for all of them.
"Drag is more of a look and feel and has nothing to do with one's sexuality," Brown said. "Drag is an art form and it allows me to express myself."
While filming season five of  "RuPaul's Drag Race," Hillz was hiding a big secret, which she claimed distracted her from the competition. Near the end of the second episode, Hillz admitted that she was not only a drag queen, but also a transgender woman.
At a young age, Hillz was abandoned and felt insecure, which led her to do drugs and start escorting. Her past serves as the inspiration for the message she advocates through drag to her audience today.
"My darkest time was when I escorted and put myself in the craziest positions where I was robbed, almost raped and had a gun to my head," Hillz said. "Now I hear these stories about these girls with the sadness, the depression, the past and nobody really wants to talk about it. [I thought] if I could talk about that, maybe this would be a chance to look at myself in the mirror and reflect. I needed to do drag and experience it to help me and other people."
Ever since the Supreme Court ruled in 2015 that same-sex couples could marry nationwide, other groups are emerging to challenge cultural norms and beliefs, including the issue between the drag and transgender community. During the 2015 Glasgow Pride Parade, drag queens were banned from the event. The founders argued that drag turned gender identity into a joke.
"If there weren't any drag queens there would not be a gay movement because drag queens are the one's that are out and about," Brown said. "They are not hiding in a closet and they aren't closeted because there is no way to hide in the closet if you are a drag queen."
In an attempt to create transgender equality, the word "cisgender" was introduced to the Oxford English Dictionary in July of 2015 in order to gradually replace the words "gay" and "straight." The word "cisgender" does not refer to sexual orientation, but refers to gender identity to recognize that everyone has a gender identity. It has been used to characterize some drag queens without calling them gay. However, not all drag queens consider themselves cisgender, transgender or gay.
"I in no way consider myself as a cisgendered male," Jinkx Monsoon, season five winner on "RuPaul's Drag Race," said in an interview with ThinkProgress. "I think the closest thing I would refer to myself as transgendered or agendered. I really don't consider myself a man or a woman. I just kind of float in between and that's how I've always felt."
Recently, there has been a progressive societal shift to be more inclusive with greater topics that trans-activists address such as bathroom access, name changes and hate crimes. Some drag queens do not identify as transgenders, but many see themselves as a part of a community with those who do.  Questions such as "What other LGBT groups are misunderstood?" or "How has today's social culture shaped our perception of the LGBT community?" should be considered as not just simple curiosity but a serious engagement with another human and their human experience. The ability to understand and ask questions are the the foundation into clarity and away from ignorance.  The very cornerstone of drag is for individuals to learn to accept and be accepted for themselves, as RuPaul says at the end of every episode, "If you can't love yourself, how the hell are you going to love someone else? Can I get an amen?"