Breaking College Values
[divider]Students Come First[/divider]
When 83 colleges joined together last fall to assert that "students come first," they were met with fanfare and bugles from the academic community. However, four months later, it is clear that the group faces challenges to its success, both from students and its own member colleges. Not only does the group face logistical issues, but it must confront problems with its own philosophy as well.
The prestigious colleges, including all eight Ivy League schools and Stanford University, proposed to redefine applicant qualifications, escape the limitations of the current college application process and make higher education more accessible to students of low socioeconomic status under the Coalition for Access, Affordability, and Success. In order to accomplish its goals, the Coalition announced an alternative college application platform to the more widely used Common Application, known as the Coalition Application. This service aims to "encourage reflection and self discovery" in students through college-specific questions and the inclusion of work from a new online portfolio. The Coalition also encourages colleges to look beyond academics to activities such as community service. However, students such as Palo Alto High School junior Josh Code believe that the proposed process has its pitfalls.
"I think the Coalition is naive in its goals," Code said, referring to its intent to have students portray themselves as well-rounded. "It's particularly easy to present oneself as kind when opportunities are present in one's life to easily do community service even when one's heart is not in it. I think it's easier [for students] to fake this kind of 'do-gooder' personality than colleges would expect or are willing to admit."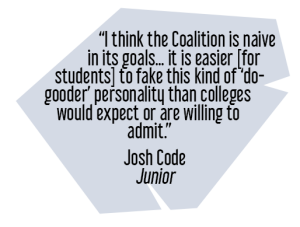 Members of the Coalition themselves are having second thoughts on their ideologies as well. By strongly emphasizing the importance of community engagement and personality, admissions officers worry that applicants may lose sight of their academics, which are still deemed important. Harvard University's Dean of Admissions and  Financial aid, William R. Fitzsimmons, is concerned that the Coalition has given applicants the impression that academics are being devalued.
"Academic excellence in all its forms is critically important," Fitzsimmons said in response to the Coalition's recommendations. "There are students out there who relish the possibility of taking many AP [Advanced Placement] tests, and it's one of the things that gets them ready for work in college. We still find that standardized test scores are useful."
This sort of internal conflict within the Coalition furthers the notion that not all of its members are ready for a complete overhaul of the college application paradigm. Despite not having everyone on board, the Coalition is optimistically advancing with its ideologies.
Last September, the Coalition announced its new application system, the Coalition Application, which places an emphasis on student character. The introduction of the Coalition Application reflect these values in that the Coalition is looking to refocus on the humanitarian aspects of students, support low-income students and change the way students apply to and ultimately perceive college.
On the Coalition Application, each college will be able to  create its own questions to get a better sense of each individual's interest and determine whether applicants are a good fit for the college. This empowers colleges associated with the Coalition to ask nuanced questions that reveal students who are the greatest fit for their campuses. Additionally, colleges will be able to request specific pieces of work from a student's virtual locker, which students will be able to add to through the application starting freshman year.
However, Paly College Advisor Sandra Cernobori believes the Coalition members created the platform for their own benefit rather than for the benefit of students who will be using it, thus contradicting the Coalition's belief that "students come first."  The Coalition Application allows them to ask applicants any questions they want, no matter the logistical cost for students.
"The reason why [the Coalition Application] exists is that [colleges] don't want to be confined by what they perceive as the limitations of the Common Application," Cernobori said.
Moreover, the Coalition was formed in the wake of technological problems with the Common Application. On Oct. 16, 2013 a glitch with the Common Application temporarily barred students from applying to college, resulting in many overdue or rejected applications. The colleges that would later create the Coalition met later that year to discuss the creation of an alternate application process, implying that the creation of the Coalition Application stemmed from problems with the Common Application rather than ideological flaws with the college application process.
"The cynical part of me thinks [the Coalition] has to do with the major technological snafus of the Common Application a couple of years ago," Cernobori said. "I think these colleges got very irritated and wanted to pursue another application so that if something like that was to happen again they could tell students to apply another way."
And although the goal of the Coalition Application to individualize student applications may sound great, it poses serious logistical challenges. The Coalition claims that the application will aid financially disadvantaged students by providing extended support over their four years in high school but its vague solutions bring into question how socioeconomically disadvantaged students might benefit from the platform.
The new application requires students to acquire and upload a separate school report, counselor recommendation and a transcript record for each school they choose to apply to. Because each college may ask different questions and require different types of work from a student's virtual locker, a student looking to apply to 10 colleges through the Coalition Application will need to prepare 10 individual applications which have similar components, but are still sent out individually. Cernobori prefers the Common Application over other college application processes because of its superior organization and consolidation.
"We only support an all-electric process, in other words, the Common Application," Cernobori said. "Other schools that need a letter for a counselor or a transcript have to be done separately."
When compared against the efficiency of Common Application, which allows teacher advisors and teachers to upload required information and letters to a single application that can be sent to any of the 623 schools registered with the Common Application, the Coalition Application may seem to be a step backwards. 
Many students are confused by the Coalition's actions, which claims to put students first, but then makes it more difficult to compile and submit applications.
"Hearing that the Coalition Application requires applicants to submit separate [questions] and supplements for each school makes the Common Application seem a lot more straightforward in comparison," junior Jack Stoksik said.
Senior Josh Yuen, who completed the college application process with the Common Application, believes that its efficiency and consolidation were some of its major advantages.
"The Common Application was by far the best out of all the college application [services] I used because it was so efficient for recommenders to have a core place to submit letters of recommendation," Yuen said. "It was so much easier just to have one login and one place to fill everything out."
[divider]The Virtual Locker[/divider]
However, despite the superior functionality of the Common Application, there is an upside to the Coalition Application — colleges can choose questions and ask for work that helps them see students as more than statistics. The Coalition Application helps colleges determine if a student is the right fit for a college through nuancedquestions that also help differentiate applicant information so they can stand out.
The Coalition is also working to create online virtual lockers for students that will be accessible at the start of their freshman year. These lockers will provide students the opportunity to interact and receive feedback from colleges throughout their high school years. The Coalition hopes that this feature helps socioeconomically disadvantaged students with the college application process. Students will be able to upload their essays and other supplemental materials to their lockers for free to curate a collective portfolio, then share the documents with colleges. Colleges will be able to give feedback to the students, acting as a college counselor would, providing low-income students with an often expensive resource.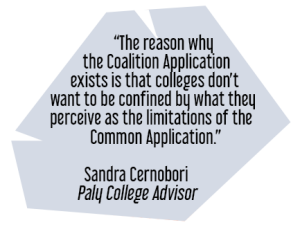 "The idea is to encourage ninth graders [to] begin thinking more deeply about what they are learning or accomplishing in high school," Scott Jaschik from Inside Higher Education wrote in a review of the Coalition. "[The Coalition hopes] to create new ways to help [freshmen] emerge in their senior years with a body of work that can be used to help identify appropriate colleges and apply to them."
Getting a head start on college applications will allow younger students to explore and build their strengths while also reducing stress that often occurs leading to senior year, when college applications are started from scratch and finished over the course of a few months.
"I think starting a college portfolio freshman year would be really helpful because that way colleges can monitor your progress over time," Stoksik said. "It is better to know about the college application process sooner than later. While students should not be worrying about where they will be going to college freshman year, they should be worried about their transcript, and the Coalition Application gives them the perfect opportunity to do so."
However, beginning the college application process earlier is not appealing to all; some consider preparing for college applications during freshman year of high school premature. Although the Coalition Application does not require students to begin their applications their freshman year, Code feels that since the option is available, the underlying notion is that students must start the process as soon as possible to be competitive.
"The application says that you can upload materials to your portfolio as early as ninth grade," Code said. "Of course this means that you must upload work as early as possible. If you see an optional essay on a college application, are you going to write it? You probably are."
While the Coalition hopes that the virtual locker will increase the accessibility of valuable feedback to low-income students, there are logistical issues concerning the number of assignments college counselors will have to review.  If the locker becomes a widely used service, the provided counseling will likely be spread thin by the huge number of applicants looking for guidance. Speculation around the Coalition Application and its idealistic goals will be clarified when its official version is released in July. However, it is unclear how many students will use the Coalition Application this summer.
[divider]Turning the Tide[/divider]
Continuing on the mentality of prioritizing students, the Coalition supports Turning the Tide, a report created by Making Caring Common, a project of the Harvard Graduate School of Education which was published in Janurary. Key players in the college admissions process, such as college admissions officers, university administrators, high school guidance counselors and principals, participated in this exploratory report hosted by Making Caring Common.
The report focuses on reshaping college admissions by placing a larger emphasis on three aspects intended to provide equal opportunity for economically diverse students. These aspects include more involvement in community service, engagement and contribution to diverse groups of people and reduction of stress on academic achievement. By encouraging community service, the Coalition hopes that students will engage in projects that genuinely reflect their interests. Furthermore, group projects are highly valued as they promote teamwork, problem-solving and empathy — skills that are undervalued in the current application processes.
"Rather than students 'doing for' students from different backgrounds we encourage students to 'do with' — to work in diverse groups for sustained periods of time on school and community challenges, groups in which students learn from one another," the report stated.
Unfortunately, the unpleasant truth is that some applicants will attempt to game the system. By shifting priorities from academic to humanitarian, colleges make it easier for applicants to lie about themselves in order to get into college.
"I think the shift towards philanthropic and humanitarian traits in applicants is a good one, and I think the motives are pure, but I don't think the time is right for the implementation of this system," Code said. "[This shift] comes with certain trappings, such as people who may not be as nice as they let on, masquerading as philanthropic heroes."
While academic achievements are quantifiable, personality is more abstract. However, the Coalition aims to assess an applicant's character by looking at his or her contributions towards others. Whether it be taking care of a sibling or working to support the family, the Coalition intends to praise selfless actions
. In this regard, low-income students who may not have enough time to study because of their familial duties will benefit from the Coalition Application.
"The admissions process should seek to assess more effectively whether students are ethically responsible and concerned for others and their communities in their daily lives," the report recommended. "The nature of students' day-to-day conduct should be weighed more heavily in admissions than the nature of students' stints of service."
Lastly, the report recommends that the college admissions process reduce its stress on extracurricular activities and academic achievement. To lessen the pressure on extracurriculars, the Coalition recommends that students engage in only two to four meaningful activities.
Sophomore Aashai Avadhani agrees that there is too much emphasis put on the quantity of extracurriculars a student does rather than the genuine interest he or she has for them.
"I do think that a lot of students do activities just to get into college," Avadhani said. "It is not about what you do in life, and the passions that your pursue — it is about what checkmarks you need to slash to get into college."
Another way the report wants to reduce the pressure of academic achievement is to lessen the weight put on standardized tests such as the SAT or ACT by either making them optional, or diminishing their importance by placing more emphasis on humanitarian work.
Paradoxically, Harvard Admissions does not plan to decrease the weight that college-level courses or standardized tests hold, still deeming them as a crucial component in an applications.
"One of the things that we hope does not get lost in the enthusiasm that people have for the report is academic excellence, measured a whole variety of ways, including by standardized test scores," Fitzsimmons said.
By adding the focus on charity and compassion, supporters of Turning the Tide are attempting to level the playing field for economically disadvantaged applicants.
[divider]Looking Forward[/divider]
The college admissions process is undergoing a drastic change that will encourage students to expand their horizons beyond standardized tests, grade point averages and notable extracurriculars. The addition of the Coalition Application may be an indication of a larger movement — one in which colleges are shifting their values by putting less emphasis on academic rigor and more emphasis on an applicant's personal traits.
Despite the fact that Paly is considered to be an academically driven school, some students agree that the values set forth by the Coalition will improve the college application process.
"I think the Coalition Application is a step in the right direction," Stoksik said. "There is more to students than just their grade point average. [Colleges] want someone who can interact with the community [on campus] and improve the future in more ways than just solving problems on paper."
On the other hand, the values set forth by the Coalition encourage impartiality, a feignable trait that fails to take into account the addition of a new worry applicants must face.
"[The Coalition has] not seen or [has] chosen not to see the ramifications of the Coalition Application," Code said. "It is exacerbating the already present stress on students — stress to construe yourself in a certain way. Being a good person is not the focus of higher education. It is to educate you, to make you smarter and to help you see portions of the world that you otherwise would not have seen."
Although the work that the Coalition is doing is riddled with improbabilities, its ambitious goals send a hopeful message to students. The Coalition Application and the virtual locker seek to uncover what students are passionate about, so that college admissions officers can evaluate applicants more closely than with current college applications.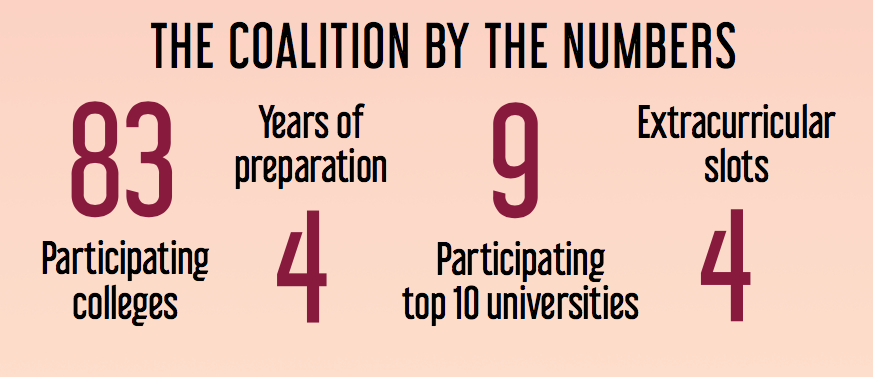 At the core of every student's college-related anxiety is the belief that their self worth is tied to academic excellence. However, by pursuing their own genuine, natural instincts and interests, students can make themselves more authentic, and therefore more interesting to colleges.
"Whatever application you choose, what colleges are looking for is authenticity in your application," Cernobori said. "When you've chosen these things that are self-guided and self-motivated, you'll be able to talk about them in specific ways that reveal a part of your personality and make you a memorable applicant."
[authorbox authorid="263″ ]