Few artists have been able to successfully adapt to the constantly evolving electronic music industry; even fewer have been able to build a bridge between rap and electronic dance music. At just 18-years-old, Andrew Luce, a senior at Stevenson High School  in Carmel, Calif. has navigated his way to stardom with both original content and remixes of popular songs.
With over ten million plays on SoundCloud and over 65,000 followers, Luce has taken the Internet by storm. His music has gathered support from some of the biggest names in the electronic business including Diplo, Krewella, Madeon and many others. Luce has also performed at popular music festivals such as SnowGlobe Music Festival in 2013 and 2015 and Coachella Valley Music Festival in 2015.
Luce began developing his interest in music at a young age. Before producing music digitally, he played the guitar and drums.
"I started taking private guitar lessons, picked up playing the drums and learned to read rhythm when I was eight," Luce said.
After three years of simultaneously taking drum and guitar lessons, Luce began to experiment with music using computer applications."In fifth and sixth grade, I put my music on Garageband, then got a software called Logic, where I recorded my guitar playing and added basic instrumentals behind it," Luce said.
In eighth grade, Luce was assigned a year-long project called the "Recital Project," where students researched anything related to music of their choice to ultimately make a project out of their research. With his passion for music, Luce produced an album for his project. From then on, Luce knew that he wanted to continue producing music.
Luce would use his free time to produce music, eventually leading to another album. As a sophomore, Luce released a song with Red Cube Record label, which Luce ultimately bought the rights back from.
"I admit that I was young and foolish to release on a small label at such a young age, I ended up paying for it a few years later," Luce said.
In 2013, Luce submitted a mix of his music to a contest hosted by SnowGlobe in Lake Tahoe. The annual contest chooses up-and-coming independent artists to perform at the popular electronic dance music (EDM) festival. Luce received the highest number of fan votes, and was one of three winners to perform at SnowGlobe in 2013, making him the youngest DJ at the festival. Luce was also the youngest solo act to perform at Coachella.
According to Luce, performing at SnowGlobe was the turning point in his life where producing music became a career.
"I had to get serious about music and continue to crank out new material," Luce said.
With the motivation he got after performing at SnowGlobe, Luce decided to make remixes of songs every week in January 2014. However, after over a month of producing music every week, Luce decided he wanted his material to represent quality over quantity. He then started producing new remixes every other week, at which point the music picked up more steam than before.
"I felt like the pace was too fast, and the music that I was producing every week wasn't the quality that I wanted," Luce said.
After a year of producing remixes, such as his well known remix of Day n' Nite by Kid Cudi that has   over 28 million views on YouTube, Luce took a break from remixes and chose to focus on creating his own music.
"The consistency was great, but I wanted to do more than remix songs that have been remixed before," Luce said. "I felt like every week, I was following a formula that all built up to a similar practice."
Following Luce's decision to stop making remixes in November 2014, he planned to work on his first EP. However, due to complications, Luce took a two month break from producing music and resumed his work on the EP after.
"It was time for me to get serious, and after months of work, I released the first single to 'BLANC' in April," Luce said.
In August 2015, Luce and music producer Vincent, formally known as XVII, released his first full EP, "BLANC."
"Not going to lie, I cried when I released the EP because it was something that I planned to do for a very long time."
After their release together, Luce and Vincent, along with a few other producers, cofounded Daruma, a music collective.
"Daruma was just an idea that was nothing back then and had no name behind it," Luce said. "It was a Google document with Vincent and a few others with some ideas."
As time passed, Daruma drew a lot of attention, and gained a fanbase after their release of the first compilation including artists like Graves, an artist who has production credits on Kanye West and Justin Bieber records, and thirteen other artists. Currently, Daruma has over 34,000 followers on SoundCloud with support from artists like Diplo, What So Not and Mat Zo.
Luce has used his young age to his benefit — connecting with the younger audience while surpassing artists with twice the years of experience. In August 2015, Luce signed with Paradigm, one of the biggest booking agencies in the world. Paradigm books artists including Zedd, DJ Snake,  E-40, Sage the Gemini, Skrillex and Tame Impala. Luce is the youngest artist with Paradigm."It was definitely one of the most exciting moments for me because they have an incredible roster and their proficiency as an agency is unparalleled," Luce said.
Since his signing to Paradigm, Luce has not posted new material to his SoundCloud, as he is focusing on working on Daruma.
"Right now, we've just been laying a lot of groundwork for Daruma," Luce said. "We launched a visual roster and the end goal of it is to be a multimedia powerhuse, rather than just a music group."
When Diplo followed Daruma on SoundCloud, Luce describes the experience to be one of the best moments of his career.
"He downloaded an entire curation of something that I had started from the ground up, and it was real recognition of something I created as an artist,"  Luce said.
Many would consider up-and- coming Luce to be successful.  However, Luce does not consider himself to be "famous."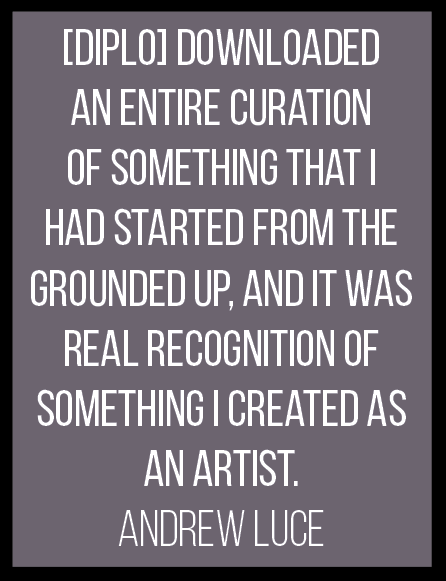 "Sure my life has changed, with the shows and travelling, but I'm not even two percent of where I want to be," Luce said.
Luce mentions that he does not produce music for the fame nor materialistic desires.
"Making money is nice, but nothing feels better than traveling and doing the stuff you love," Luce said. "Whether I'm performing for a crowd of 100 people or 7000, it's a very exciting thing when people are coming out to see you do the thing you love most."
Luce has chosen to step back from bigger concerts in 2016 such as Coachella and Outside Lands to focus on his music in preparation for 2017. For now, he will be performing at Wobbleland and Euphoria Music Festival in the spring.
As Luce's career grows, he hopes to give back to communities in the future by promoting music programs in schools.
"I want to bring music to education systems to get students motivated to go to school everyday ," Luce said. "I want to enhance and enrich the current music program that schools have because there is nothing more special than having that creative connection."
Luce also relates his emphasis on fostering passions to the pressure of academic success present in high school and college, especially in Silicon Valley.
"High school is such a pivotal time to foster a passion like music and do something with it," Luce said. "Building your passions and doing something with them can give teenagers real meaning to their lives, instead of not looking forward to their daily routines."
Luce also makes a point to prove that people should pursue their passions because they want to, not because they have to for ulterior motives.
"Rather than saying how many honors you took, it is sick as f**k to say you performed at Coachella on your resume, that way you can get the benefit of college but also be content with yourself on what you've done with your passions."