At age 25, Kelsey Feeley is the head coach of Palo Alto High School's track and cross country teams, a teaching assistant at a local private school and a friend to athletes. Her life has already been punctuated with enough tragedy and happiness to be spread out over the course of a lifetime. In her most tumultuous struggles, coaching was a lifeline for her to cling to and rely on.
Feeley grew up in Palo Alto and became interested in running at a young age. She participated in track and cross country during her time at Henry M. Gunn High School, focusing on the 400-meter and 800-meter events.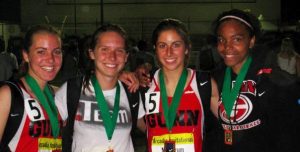 After graduating in 2008, she attended San Francisco State University with the intent of becoming a history teacher. Unfortunately, upon graduating college, her father was diagnosed with cancer.
Following the devastating news, Feeley diverged from her intended career path as a teacher to take care of her ill father. She decided to seek a job that would give her the flexibility to tend to her father as well as pursue her own passions. The idea of being a high school coach appealed to Kelsey, but there were no positions open at Gunn. Instead, she applied to be the coach of the long-distance track team at Paly in the spring of 2013.
"I heard that there was a position open for a boys distance coach from a friend and I interviewed for the position and I got it," Feeley said. "I absolutely fell in love with coaching — it has been such a great outlet for me and a way to focus my energy."
Feeley's first season went smoothly — her enthusiasm and success as a coach allowed her to become the head coach of the boys cross country team in the fall of 2013. Under her leadership, the boys advanced to Central Coast Sectionals (CCS) for the first time in four years. The following season, she took the team to the California Interscholastic Federation (CIF) state meet for the first time in five years.
"I want kids to want to be at track practice, to want to compete at meets, to want to see improvement over the year. That doesn't mean that you have to be the fastest one out here."

-Kelsey Feeley
An influx of talented young runners that season propelled the team forward, but Feeley also believes that the connections she formed with the athletes brought them together, made them work harder and ultimately made them stronger runners.
"I am pretty empathetic and sympathetic to the kids, and I do my best to be someone that they feel comfortable with coming to with problems that don't have anything to do with running," Feeley said.
Feeley became the head coach of both the boys and girls track teams in the spring of 2015. Her journey to becoming head coach of the largest sports team at Paly had been an almost uninterrupted progression of happiness and success. Although she was not a teacher, Feeley was able to work with students through coaching and realized with gratification that she was a talented mentor. Additionally, her father's health was slowly improving. Inspired by his recovery, Feeley began taking classes at Foothill College to become a nurse alongside her position as head coach.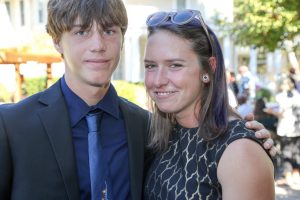 Unfortunately, her father's health began to deteriorate unexpectedly and rapidly. After a long struggle with cancer, he passed away in the fall of 2015, leaving Feeley shocked.
During the weeks following his death, Feeley focused on coaching cross country and preparing the team for the upcoming state championship. Coaching became the primary focus of Feeley's life, giving her a reason to continue working and interacting with concerned friends and athletes through her grief.
"If I didn't have the cross country team, I wouldn't have [had] much to wake up in the morning for," Feeley said.
On Oct. 11, 2015, Feeley attended her father's funeral. She was surrounded by the usual friends and family who comforted her, as well as many student athletes and their parents from the cross country team who attended the somber gathering to support her.
They gave her flowers, kind words and their condolences. Five months later, Feeley is still grateful to the team that gave her an excuse to get out bed and put on a brave, if delicate, smile.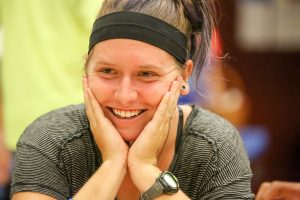 "After [my dad] passed, I was floored by the amount of support I received from the cross country team," Feeley said. "The kids and their families… I was so honored that they made me feel so loved and supported and that I had this whole big family to lean on during what became the hardest time of my life."
After finishing the cross country season, Feeley reassumed her role as head track and field coach this year. Over 250 students are currently participating in running, throwing and jumping events, putting a strain on the six coaches. Even with the increased number of athletes, Feeley attempts to form connections with the athletes and be a positive influence in athlete lives.
"This is the age [where] you become the person you are going to be and live the rest of your life as," Feeley said. "I [have] found that coaches have a lasting impression on the athletes and I always hope that it is a positive impact."
"After my dad passed, I was so honored that the kids made me feel so loved and supported and that I had this whole big family to lean on during what became the hardest time of my life."

-Kelsey Feeley
Unlike other sports, track and field intrinsically lends itself to athlete categorization — precise times and distances easily quantify who is the fastest, strongest and ultimately, the best athlete. However, Feeley focuses on athlete improvement and avoids using numbers to determine an athlete's worth. Feeley's job is to help athletes set goals and provide them with the workouts and motivation to achieve them. In the process, she hopes athletes will become passionate about continuously improving themselves and begin to enjoy running.
"I want [track and field] to be an outlet for kids," Feeley said. "I want kids to want to be at practice, to want to compete at meets, to want to see improvement over the year and that doesn't mean that you have to be the fastest one out here."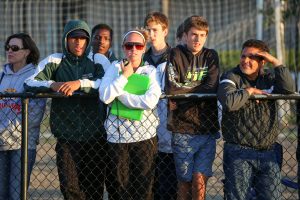 Feeley has recently accepted a teaching job at a local private school, where she is an assistant for a fifth grade classroom. The hours of her jobs allow her to pursue her passion for education during the day and athletics during the evenings.
After three years of uncertainty, success and loss, Feeley has finally found a life she enjoys. During the toughest portions of her life, coaching was a constant for Feeley, and what started off as a distraction became an integral part of her self-image. She intends to continue coaching and learning from athletes for as long as her other jobs allow.
"I love watching the progression of kids throughout the year and seeing the joy on their faces when they are able to break a personal record or achieve a goal," Feeley said. "I would like to [continue coaching] for as long as I can."