Worst NFL Draft picks
Every college football fan has routinely watched a favorite player progress through multiple seasons during their college years. In most cases, these star players are selected early in the following year's National Football League (NFL) draft. However, in some unfortunate cases, these same players never live up to their expectations. Whether it be because of their poor work ethic, substance abuse, attitude issues or overall ineffectiveness, many college superstars have found themselves sitting on the bench and labeled as "busts."
RYAN LEAF – San Diego Chargers Quarterback
Preceding the 1988 draft, the Indianapolis Colts had been given the first pick, with the San Diego Chargers having traded up for the second pick. Both teams had clearly expressed their desire for a quarterback and looked at two players that were heavily anticipated to be franchise quarterbacks of the NFL, Ryan Leaf and Peyton Manning. The Colts wisely used their first pick to select Manning, who would become one of the most successful quarterbacks of all time.
On the other hand, it soon became apparent that Leaf would never live up to the same standards. The Washington State University quarterback's indolence and immaturity quickly exposed his true character, as he gained 20 pounds and missed his first mandatory rookie meeting. His rookie season began disastrously, having thrown only two touchdowns with 15 interceptions. His inability to communicate with his teammates, coaching staff and the media along with his poor work ethic lead to his precipitous downfall with the Chargers. After three unsuccessful seasons, he was picked up by the Tampa Bay Buccaneers. Yet again, his failure to comply with the team's offer led to his final team, the Dallas Cowboys, where he was released after failed physical exams. In 2012, Leaf was convicted and sentenced to two years in prison for drug and theft charges.
TONY MANDARICH – Green Bay Packers Offensive Tackle
Nobody could have anticipated the devastating career of offensive tackle Tony Mandarich. After performing tremendously well at Michigan State University, scouts unanimously agreed he would be a legendary tackle in the NFL, surely to be inducted to the Hall of Fame. Sports Illustrated even published an issue featuring Mandarich on the cover as "The Incredible Bulk." At 6-foot-6 and 320 pounds, Mandarich's physique seemed almost impossible to mimic. He was the second overall selection in the 1989 draft to the Green Bay Packers. However, Mandarich's egocentric attitude, unsatisfactory play and drug abuse led to his eventual demise.
After three seasons and only 31 starts with the Packers, Mandarich left football for two years where he continued to abuse drugs and alcohol. Following his leave, Sports Illustrated published another issue featuring him on the cover, this time with the headline "The Incredible Bust." Years later, Mandarich admitted to using steroids during his years at Michigan State.  After finally becoming healthy years later, Mandarich returned and played three mediocre seasons with the Indianapolis Colts before retiring in 1998.
JAMARCUS RUSSELL – Oakland Raiders Quarterback
Talent was never the problem for 2007 first overall draft pick JaMarcus Russell. Coming out of Louisiana State University, the 6-foot-6, 260-pound quarterback seemed unstoppable, and was often compared to legendary quarterback John Elway.
However, in his early years with the Oakland Raiders, Russell became increasingly inconsistent and unreliable. In his first 25 starts, he maintained a subpar 50.1 completion percentage, a 65.1 quarterback rating and turned the ball over a whopping 48 times. In 2009, Russell arrived at the preseason training camp having gained 30 pounds, and it became clear he was no longer devoted or interested in improving his game.
After three years, he was released by the Raiders, and the following day he cleared waivers, making him an unrestricted free agent. Later, members of the team's staff and roster publicly admitted their regret in drafting him.
"His work ethic had to be the worst [s***] man," Cliff Branch, former Raiders wide receiver said.  "He had all the talent in the world, but he didn't prepare himself at all. Russell was a party boy; they [the team] gave him all this money."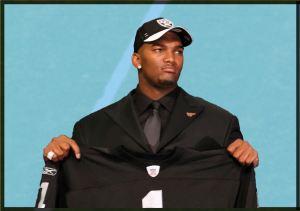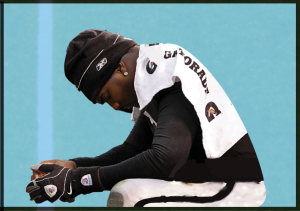 LAWRENCE PHILLIPS – St. Louis Rams Running Back
After rushing for over 100 yards for 11 straight games during his sophomore year of college, Lawrence Phillips had proven to be a consistent threat to opponents. His success had won the Nebraska Cornhuskers a national championship, beating Penn State in 1994. However, Phillips was arrested for assaulting his ex-girlfriend the following season, and his image had become crippled.
Despite his character issues and problems off of the field, Phillips was drafted sixth overall by the St. Louis Rams in 1996. In his first year, he started 11 out of 15 games and rushed for 632 yards with four touchdowns. Still, on Nov. 20, he was abruptly released by the Rams due to his inconsistency and inability to stay out of trouble. He was then seen storming out of the Rams' facility and missed his remaining practices as a member of the team.
Hoping to make a comeback, he was soon picked up by the Miami Dolphins. He had only played two games before he was dropped yet again for assaulting a woman in a Florida nightclub. In the fall on 1999, the San Francisco 49ers gave Phillips a final chance. However, Phillips quickly began to miss practice and showed no interest in playing. He was released on Nov. 23, 1999 and did not play in the NFL again.
CHARLES ROGERS – Detroit Lions Wide Receiver
Charles Rogers was a superstar in college, breaking Michigan State records in single game receiving yards and career touchdowns, as well as a National Collegiate Athletic Association (NCAA) record for the most touchdown catches in consecutive games. Such accomplishments landed him the second draft pick in the 2003 NFL draft and a spot on the Detroit Lions roster.
In his first five games, Rogers showed promise with 22 catches for 243 yards. However, Rogers broke his clavicle shortly after, leaving him out for the rest of the season. During the following season, the receiver's bad luck continued when he broke his clavicle again on the third play of the season. Rogers was so disappointed that the team staff allowed him to go home for the remainder of the season. The following season, Rogers' playing time was limited yet again due to a third violation of the NFL's substance abuse policy. Upon his return, he only played in nine games with three starts, catching 14 passes for 197 yards and one touchdown. In 2006, Rogers was released from the Lions due to his poor work ethic. He continued to work out with teams such as the Miami Dolphins, New England Patriots and Tampa Bay Buccaneers, but none of the teams opted to sign him.
AKILI SMITH – Cincinnati Bengals Quarterback
Widely known as the Cincinnati Bengals' biggest draft bust, Akili Smith was a highly anticipated quarterback coming out of a great season at the University of Oregon. In his first year starting as a senior, Smith threw 32 touchdown passes in his 11 starts. In the 1999 NFL draft, the year in which five quarterbacks were selected in the first round, Smith was the third quarterback and overall selection.
While Smith was athletic, many skeptics questioned his ability to perform in the NFL due to only being the starting quarterback during his senior year. After various contract disputes, Smith missed most of the 1999 training camp, which would prove to hurt him in the following seasons. Despite his athletic abilities, he was never able to work well with the team or effectively use the Bengals' playbook. In his 4-year period with the Bengals, Smith started just 17 games, throwing a mere five touchdowns and 13 interceptions. In 2002, he was released after having sat on the bench for the previous two years. Smith finished his career in the NFL playing with the Green Bay Packers and Tampa Bay Buccaneers, where once again he was not able to make any sort of impact.
TIM COUCH – Cleveland Browns Quarterback
Unlike many other draft busts, Tim Couch was not an awful professional quarterback; however, he certainly did not live up to the high expectations set for him during college. At the University of Kentucky, Couch completed 795 of his 1,184 attempted passes, including an unbelievable 4,295 yards and 74 touchdowns in his senior year. Couch still maintains the NCAA record for completion percentage in one game (with a minimum of 40 passes) as he completed 44 of his 53 passes against Vanderbilt in 1988. His accomplishments and performance led to his selection as the first overall pick in the 1999 Draft.
However, Couch had joined the team only three years after the former Browns team moved to Baltimore. As a result, he was forced to work with a severely underdeveloped offensive line, which led to persistent pressure and sacks from the defense. In 2000, Couch broke his thumb and missed the last nine games of the season. Couch's prime was in 2002, where he threw for 2,842 yards and 18 touchdowns. However, he suffered a broken leg in the final regular season game and was forced to sit in the playoffs. By 2003, Couch had been replaced by Kelly Holcomb and was not be given the opportunity to start again.
ERNIE DAVIS – St. Louis Rams Running Back
The unfortunate fate of former Browns running back Ernie Davis could have never been predicted. In his earlier years, Davis played for the University of Syracuse, where he showed his promising talent after leading the team to the National Championship and an undefeated season in 1960. In his Junior year, Davis set a record of averaging 7.8 yards per carry, and was the third leading rusher in the country. Unfortunately, his talent was often suppressed by the recurring discrimination he faced as a black athlete.
Despite this, Davis was selected as the first overall pick by the Washington Redskins in the 1962 draft. The founder and owner of the Redskins, George Preston Marshall, had been openly racist, and Davis demanded to be traded to the Cleveland Browns. As a result, he signed a three-year, $200,000 contract with the Browns in 1961, where his life would take a turn for the worse. In 1962, Davis was diagnosed with leukemia during training camp. As his condition furthered, he was only allowed to practice on the field without physical contact and draw up plays, but never played a single down in the NFL. On May 18, 1963, Davis passed away at the young age of 23 in the Cleveland Lakeside Hospital.