It's hard to miss the bright pink windows on the corners of University Avenue. The logo of a faceless man and his coffee, just keep popping up all over Palo Alto. Behind the pink walls lie what will be a trendy, modern study spot. Easily recognizable by the quote "this color will look good on your Instagram," coffee and juice chain Joe & the Juice has come to Palo Alto in a swarm, adding a new study spot and trendy hangout to downtown and the Stanford Shopping Center. 
The three new Joe & the Juice Palo Alto locations add to the over 200 chain locations in North America, Europe and Asia. Founded in 2002 by ex-karate champion Kaspar Bosse, the company started with a single shop in Copenhagen, Denmark. In 2016, Joe & the Juice's estimated revenue was close to $400 million, nearly doubling since 2012. 
Located under the Accel Venture Capital building on the corner of University Avenue and Cowper Street, the first of three Palo Alto Joe & the Juice locations provides a cool and relaxed space for studying and sipping. The formerly-pink entirely glass exterior of the shop fills it natural light, and the inside is furnished with modern, dark metal furniture. A light, relaxed ambiance of mellow techno-pop music plays in the background. 
Not only does Joe & the Juice provide competition for the other drink giants such as Starbucks and Jamba Juice, the new coffee and juice shop in town provides an "edgier" feeling than a local Starbucks. 
Featuring not only coffee but freshly squeezed juices, the menu items are at higher price points than other chains; a small juice retails for $7.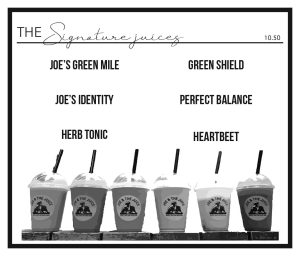 Senior Makenna DeGeronimo has been an employee at the University Avenue location ever since it opened in late July. 
While visiting her uncle in Norway, DeGeronimo fell in love with the local Joe & the Juice. She was surprised to hear that her favorite coffee shop overseas was opening three new locations right down the street from her.
 "I was extremely excited. I had told my family that I really wished [Joe & the Juice] was in Palo Alto. [In Norway], we went almost every day for lunch." 

Senior Makenna DeGeronimo
Although the first location only opened this summer, the coffee and juice spot is already a known and visited spot for students. Senior Jamie Furlong likes Joe & the Juice for it's healthier drink options and nice atmosphere inside the store. 
"There aren't any other places that offer a wide variety of freshly-pressed juices. They have live music some days which creates a really nice atmosphere and study environment." 

Senior Jamie Furlong
With many other popular downtown study locations being loud and overcrowded, it's unique features like this that make Joe & the Juice a new go-to. "I don't know of any other cafes that have that."
Even as a fan of the chain, Fulong does have thoughts as to the chain's large expansion into Palo Alto.
"I think it's quite excessive that they're opening up three locations. It would make more sense to me if they started off with one and expanded as they saw fit."

Senior Jamie Furlong
With the other two locations set to open later this year, the three Joe & the Juice's are a part of the chain's spread, moving down California and over the U.S. According to employees at the University Avenue location, stores in Mountain View and down the Bay Area are set to open in the year.