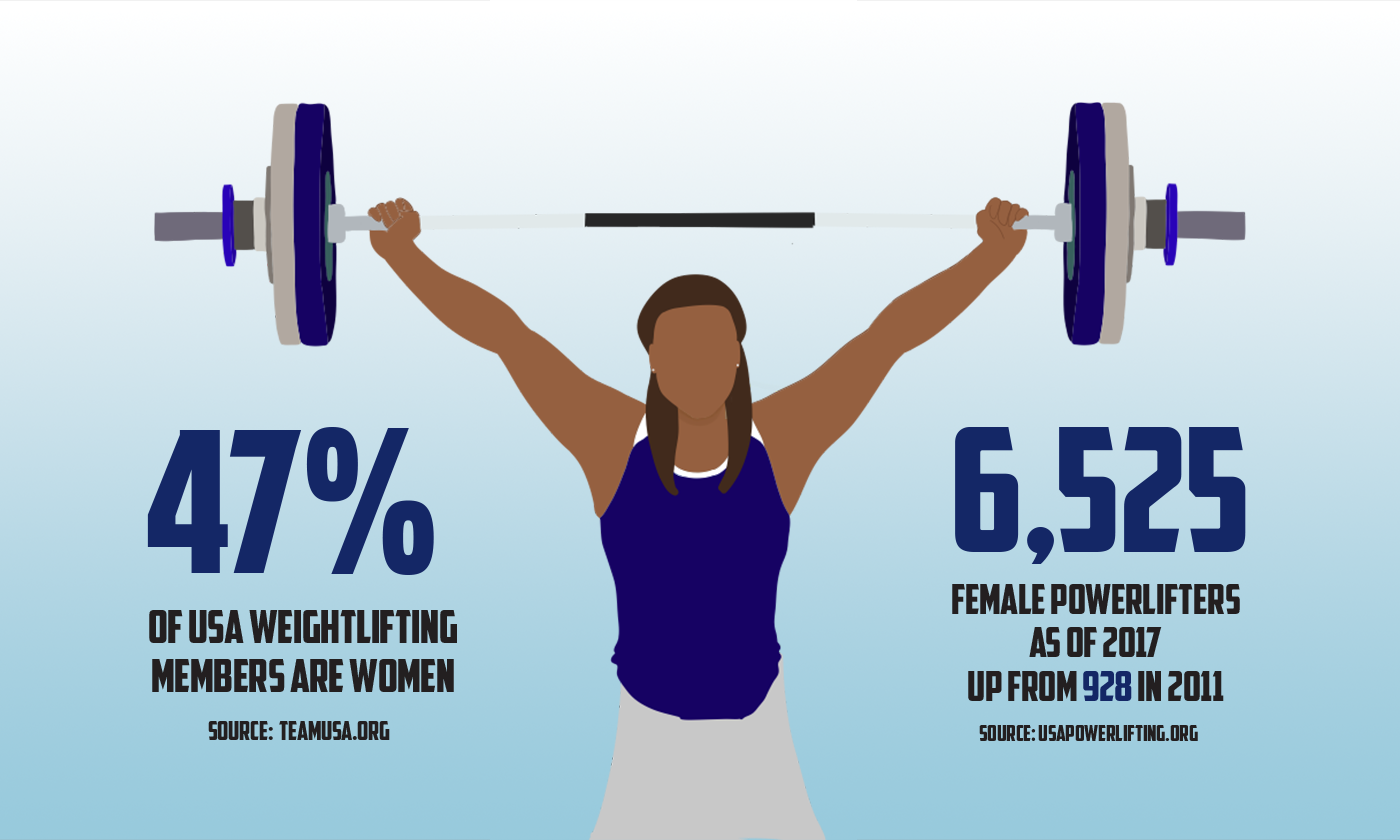 One does not typically think of young women when they imagine a weight room — they think of hulking men slamming weights back onto the ground or testosterone-filled teenage boys trying to put on mass.
While this image is terrifying to most young women, tides are shifting and some are trying to break that stereotype — and at Paly's gym, a hidden minority of female weightlifters is slowly but surely starting to grow.
Senior Sofia Bliss-Carrascosa had been riding horses competitively since she was 8 until the winter of her junior year, when she exchanged neighs for the sound of metal hitting metal and plates sliding onto bars.
"I really just wanted to get stronger," Bliss-Carrascosa said. "I felt like my athletic abilities were very limited, and (I had) a general desire to be more athletic and healthier. I started to give it a try, and I ended up really enjoying it."
After nearly spending a decade in gymnastics, a sport she hated, senior Yael Sarig also decided to take a dive into weightlifting the summer before her sophomore year.
"(Weightlifting) is the only sport I've tried that I've both really loved and felt I've been decently good at," Sarig said. "(Weightlifting) is a sport where you don't need to be born, gifted or like a freak of nature to get good at it — you just need to put the work in."
Senior Ella Jones had spent years in the weight room to supplement her myriad of sports — softball, basketball and volleyball — but Jones made the transition to start working primarily in the weight room with barbell lifts to improve her body and health, much like Bliss-Carrascosa.
"When you research it online, you're like, 'how can I get fitter?'" Jones said. "All the sources say lifting is super important."
While Bliss-Carrascosa, Sarig and Jones spend hours in the Paly gym reaping the health benefits of resistance training, they also have to fight a different form of resistance outside of the weight room: the huge gender disparity in weightlifting and societal stigma.
"I want to make (this) super clear — there are days when I'm the only girl," Bliss-Carasscosa said. "It's not unusual for you to walk in and be like 'Okay, guys. Awesome.'  When you're a guy and you walk in, it's perfectly normal to see a beginner guy and all his friends helping him out. But as a girl, it's so much harder because even if you do go and you do try and you're trying to learn new things, you have fewer role models to look up to."
Not only do girls face an absence of other women in the weight room, but some girls also fear that they won't be attractive to men, according to Jones.
"Will guys be scared of me?" Jones said. "What will the guys think if I can lift more than them now? Will they be intimidated by the fact that I'm strong? I've seen guys that were like, 'Oh, she can lift too much, she's too strong.'"
Sarig said she agrees with Jones' sentiment surrounding dating and social stigma.
"There's a lot of pressure to be liked and to find a boyfriend or a girlfriend and that's a pressure that I don't think acts on guys," Sarig said. "In a relationship, there's that patriarchal idea — the man is supposed to be the protector, he's supposed to be the alpha and supposed to be the big strong one that can protect you. I'm in the weight room some days, and I'm confident that I'm probably stronger than some of the guys in there."
However, for Jones and Sarig, the desire to get stronger outweighs the fear of being criticized by others. While some women find weightlifting empowering and use it to build their body to what society currently finds attractive, Jones said it's easy to be trapped when you're lifting to be attractive, instead of lifting to improve your health.
Over time, Jones has grown to love the jumps in strength she experiences and the difference in how she holds herself.
"You can also see progress in your confidence and how you hold yourself and what you feel capable of doing…so (its) addictive and you want to get back to that," Jones said.
Jones also said she noticed an uptick in the number of girls wanting to get into the gym, but she said they're often too scared to step into the weightroom.
"The idea of the more muscular powerful woman is coming out and that's part of weightlifting, so it's becoming more acceptable to be like a woman who lifts weights," Jones said. "Many girls I talked to, they say, 'Oh, I really want to come with you sometime. That sounds so fun. You should teach me,' but they're scared, which is why they're not there."
Sarig said while having a nice body is certainly a byproduct of getting into weightlifting, the ultimate goal is to get stronger and improve your life.
"Bodies have always been a cyclical thing," Sarig said. "Maybe you start with that narrow feminine body ideology, and you eventually break out of it. But if you don't want to build your upper body, fine, just get in there and lift."